Guidelines for Conducting Cooperative Audits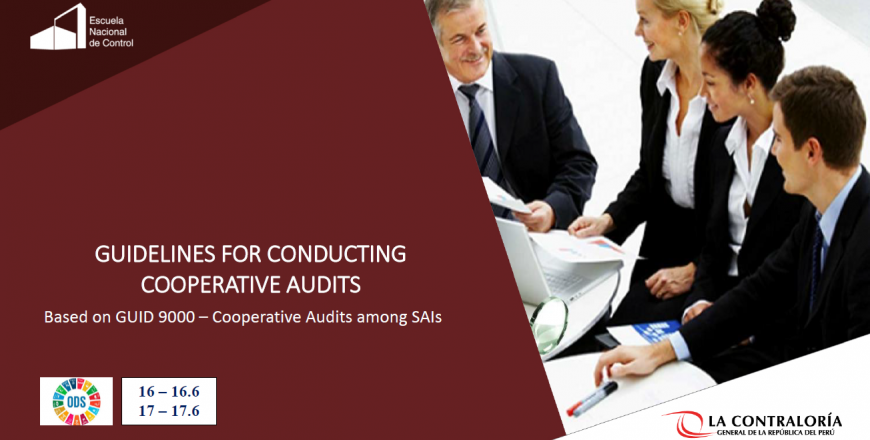 The course "Guidelines for conducting Cooperative Audits" is a self-study course, aimed to guide and instruct the personnel of the supreme audit institutions (SAIs) in the practice of cooperative audits, as set out in GUID 9000. The course comprises four learning units that address the key issues related to cooperative audits conducted between two or more SAIs, from general aspects prior to the initiation of the audit, the beginning of the audit itself, the work sequence and the post-audit evaluation and cooperation.
The course was developed by the SAI of Peru in its role as the Chair od the CBC's Subcommittee on Cooperative Audits, and most recently it was offered free of charge, from March 1st to April 3rd, in both English and Spanish in the platform of the SAI of Peru's training center, the NAtional School for Control (Escuela Nacional de Control). 282 participants from SAIs across the globe participated in that edition of the course.
A new edition of the course will be offered in June, and you are all cordially invited to save the date.
Unit I
1
Unidad I: Aspectos Generales previos a la Auditoría Cooperativa
In this unit the student develops the ability to identify the characteristics of a cooperative audit, considering the international environment.
Unit II
1
Unit II: Initiation of the Audit
In this unit the student will develop the ability to relate the previous procedures for conducting a cooperative audit.
Unit III
1
Unit III: Sequence of Steps of Audit Work
In this unit the student will develop the ability to recognize the phases of the cooperative audit, from the processes for its implementation to the issuing of the report.
Unit IV
1
Unit IV: Evaluation and further cooperation after the cooperative audit
In this unit the student will develop the ability to understand the characteristics and importance that should be given to the subsequent evaluation of the cooperative audit, as part of a quality management system.